Fun, Affordable and a Little Wild - Tulum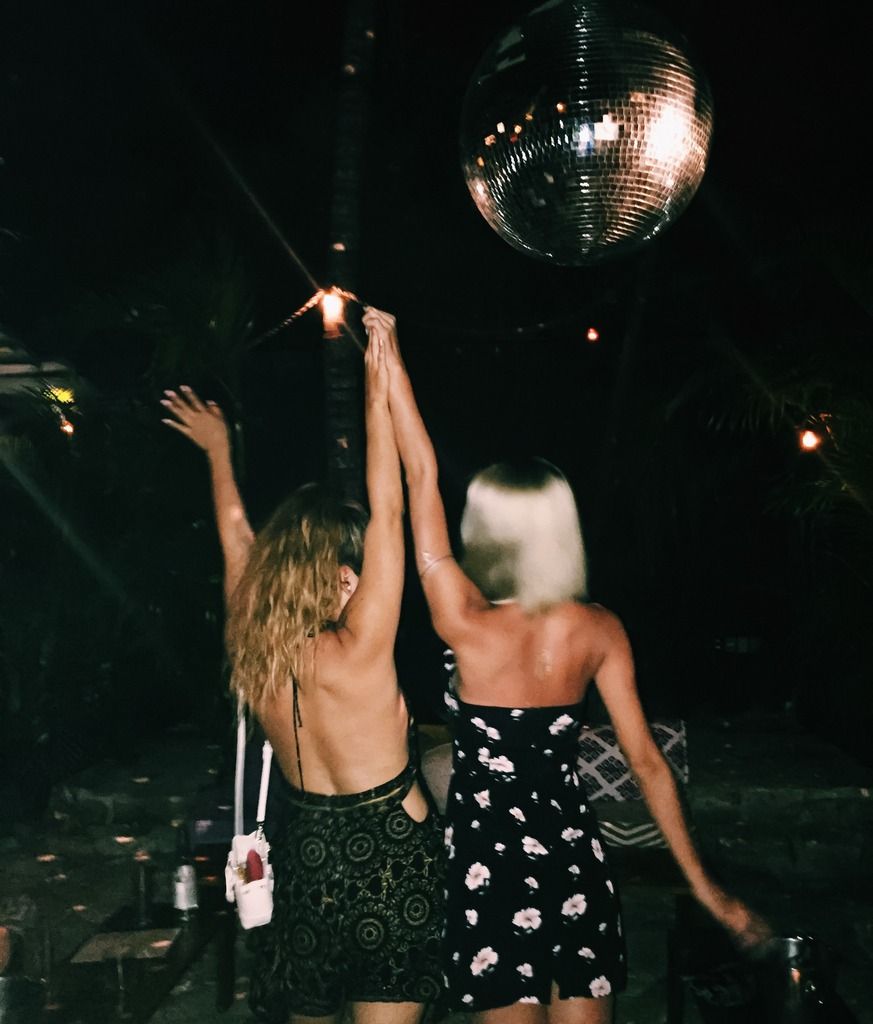 In Gitano underneath the disco ball that's in the middle of this jungle/beach!
It seems like Tulum, Mexico is the top trendy place of the year. A close friend of mine wanted to know what the buzz was all about so she made it her birthday trip.
If there is anything I will keep from that trip it's this one simple memory: The sun was beating down fiercely on my back and I could feel the beads of sweat rolling from my face, from my chest and from my back. We were all on biking on this narrow road nearly missing our deathbed every time a car zoomed by but that view, that view was magical. The water was so blue to the left of me and the air so thick with salt that I could feel myself swallowing it. Each push on the bike pedal became more and more excruciating but it is this moment I recall so vividly. Everything seemed to slow down the instant I pushed on the pedal and that familiar burning feeling raced from the my calves all the way to my thighs. The pain came but disappeared quickly as the warm sunshine and salty air washed over me. It was this give and take the entire bike ride and I have never felt more alive. It shook me to my core. I let out a big woo and realized that this is what life is about.
Definitely my favorite picture of the entire trip!
It was a beautiful trip. Mexico is clearly a top travel destination and not only is there a little bit of everything, it is also affordable. It was one of those life changing trips, the ones filled with so much laughter and pure joy, the ones that you remember and talk about for the rest of your life. It reminded me of how beautiful life really is. If you have the chance to go, please do!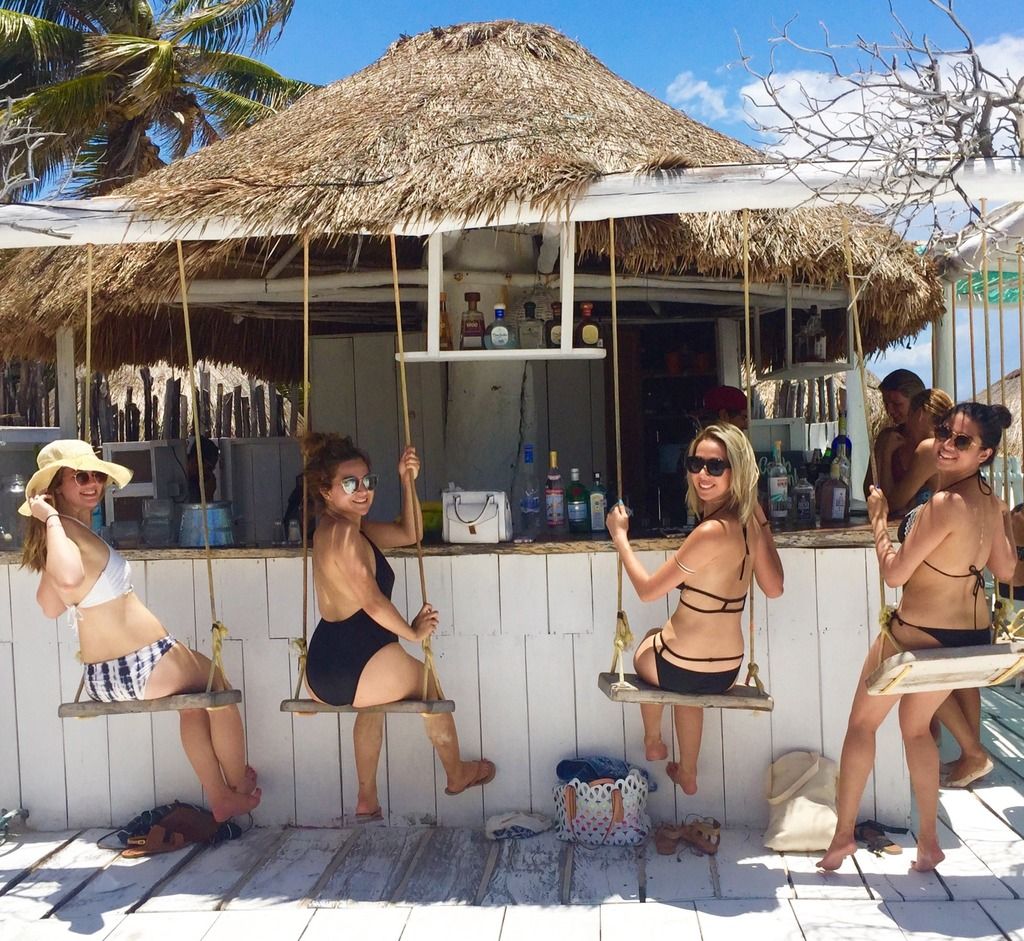 At Coco Tulum.
Top Places to Visit In Tulum
1. Posada Margherita - Great Italian place. This is a super cute place to take pictures, very Instagram worthy! Although the food is great, this is Mexico! Try getting your hands on local food as well!
2. Coco Tulum - Must go to place. We had drinks and sat on these little swings at the bar!
3. Grand Cenote - Beautiful watering hole. I am terrified of watering holes because they are usually deep but this is great place to go snorkeling.
4. Gitano - What a chic place! Seriously this is the nicest bar/club on the beach. It had the coolest vibe and also has a giant disco ball in the middle of the jungle!
5. Papaya Playa - This place is awesome. At night it turns into a club on the beach. People are literally dancing on the sand right by the beach. It was surreal to be taking tequila shots and dancing on tables here! Definitely one for the books.
6. Mezzanine Hotel - We came here for lunch and all I can say is OMG! The view from our table was spectacular. The food was delicious and happy hour was also pretty spectacular. Probably one of my favorite places.
Top 5 Things to Pack For Tulum, Mexico
1. Sunscreen - You will absolutely fry if you do not slather this on! Do not forget your face.
2. Coverups - You should be wearing a bikini at all times during the day so keep a cute coverup with you as you hop from beaches to bars to lunch spots.
3. Pesos - Exchange your cash in the states! You will get a better deal and very few places accept credit cards here.
4. A Bike - Okay you can't pack a bike but you have to rent a bike! Like I mentioned above, the best part of my trip was riding a bike everywhere. There are bike rental places everywhere! So instead of a bike I should say pack bike appropriate shoes!
5. Portable Water Bottle - Bring your own portable water bottle that you can refill. You will be exhausted from sitting out in the sun and biking so bring water wherever you go. Water is also never free.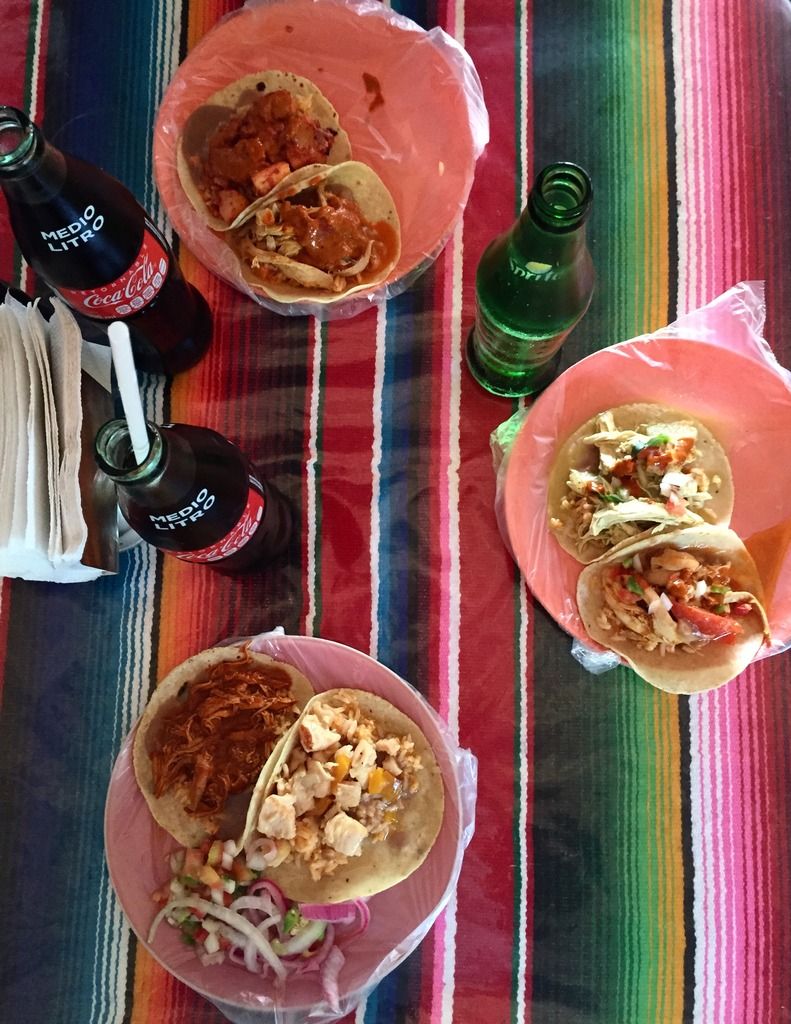 Oh and tacos of course! Lots of tacos!
Tulum, Mexico
Instagram: BrendaOffDuty
Twitter: BrendaOffDuty
Snapchat: BrendaOffDuty
Poshmark: Brendatobar