So here is a series of pictures of me having fun being single. LOL
Here is why you should love being single on Valentine's Day!
Everyone keeps asking me "What are you doing for Valentine's Day?" and giving me a really disappointed look when I respond "Yoga!" It's almost like they feel sorry for me.
I find this kind of hard to process because I don't think I have ever been happier. I don't think people are honest with themselves about the whole concept of love and relationships. So to be painfully honest, I don't think I have ever been in a healthy relationship.
This is technically my first Valentine's Day single and I am so happy to have made it here. I've always been either with someone, falling for someone or getting over someone and I am sick of it. For the first time in my life I decided that I only want to worry about me and my needs. Not going to lie, it's been AMAZING!
So I am not going to give you a cliché list of things you should do if you're single. Learn to love yourself first, jeez. How many times do you have to read that until you try it out?
You give all these guys chances they don't even deserve while YOU are the only person that deserves a chance! Everything in life is a choice. You are choosing to be single and you should be proud because you know your worth and know what you want! You know what else is a choice? Happiness.
At some point your life the guy you loved manipulated you, cheated on you, took advantage of you, abused you either mentally or physically, called you ugly just to turn around to tell you he missed you, made you feel replaceable or worthless. I think as a society girls are ashamed to say these things. We are made to feel like it's our fault. So for the girls who has been through the same, you are not alone. Love is not easy and sometimes you meet the wrong people but you need real healing from these situations. Most people never take the time to process through their pain and feelings.
This Valentine's Day don't got out and get wasted or have a typical single girls night. Go to a workout class, sign up to volunteer, make a vision board or write thank you notes for the beautiful people in your life. Work on you. I'm not saying go on a spiritual journey (unless of course you want to) I am saying fully embrace everything you are and aren't. Own your body, your thoughts, your feelings, your actions and your happiness.
Being single is kind of lit. Lots of free alcohol and pizza.
It's so great to only think about yourself. To be selfish. To chase those dreams. To be able to quit your job and move to Thailand without worrying about anyone else. Being in love is a beautiful gift but so is being single. It's a blessing I wish I would've embraced earlier on.
Also, being single doesn't mean it's "preparation time" before you meet "the one". It's not a stage that you are waiting to skip over! It's not a status nor an accomplishment to be in a relationship. Another person should never be your trophy.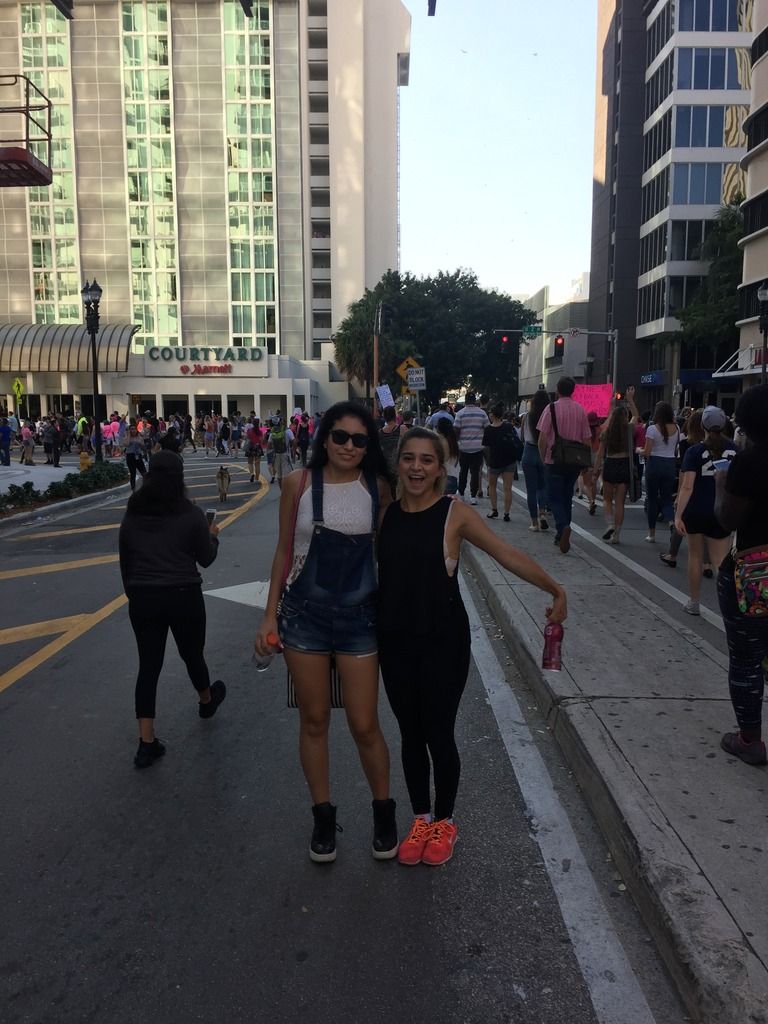 At the Women's March in Miami being single and powerful!
Take care of yourself. Let yourself heal. Stop looking for love outside yourself, you are all you need. How beautiful is that? That within you is all you'll ever need. Your body is the only real home you have, how could you not put it first? How could you just let strangers into your home just to feel some sort of "love" or "company?" You've got a heart full of love to fill you with hope, a mind full of ideas to solve any problem, a soul full of wonderment to fill you with curiosity and a pair of legs that can get you anywhere.
Why in the world are you so upset on Valentine's day when you are already the luckiest girl in the world? You are so full of love already. You should be the happiest girl on Valentine's Day!